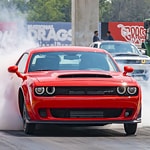 Some vehicles are so stylish that their reputation precedes them. The Dodge Challenger is an ideal example; this popular muscle car is known for its bold style and exciting design choices, making it a favorite among drivers who refuse to blend in.
Attract attention before you get to your Challenger with the remote start. Push a button, and the engine fires up immediately — even if you haven't left the house or the office. By the time you arrive, don't be surprised if passersby are casting admiring looks at the car.
With the Challenger, the beauty is in the carefully chosen details. Many are designed to hearken to the car's retro racing roots — choose from accents like the "Challenger" name in script font on the front grille or the fun bumblebee R/T Scat Pack badging. Our Byers Chrysler Jeep Dodge Ram team would love to have you in for a test drive; we'll show you all of the options as we drive around Columbus.